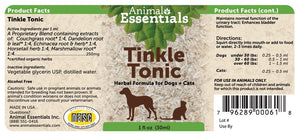 Maintains normal function of the urinary tract. Enhances bladder function. This product is not intended to treat infection.
THIS PRODUCT IS INTENDED FOR DOGS AND CATS
Animal Essential liquid Herbal Blends are Human-Grade, Certified Organic or ethically Wild Harvested, Tested for purity in a USA-based analytic lab and are selected and formulated specifically for animals by Veterinarians and leading experts. 
Sustainability is of high importance to Animal Essentials and they closely track each ingredients to ensure that growing and harvesting is done in a manner that honors sustainability and helps improve quality of life in communities of their origin. Once received, all herbs are subject to identity verification and quality testing by an independent analytical laboratory for microbials, contaminants, molds/yeasts, pathogens, and total platelets.
Active Ingredients per 1ml (1 dropperful):
Couchgrass Root* 1:4
Dandelion Root & Leaf* 1:4
Echinacea Root & Herb* 1:4
Horsetail Herb* 1:4 
Marshmallow Root* 1:4
...... 250mg
*Certified organic herbs
Inactive ingredients: Vegetable glycerin USP, Distilled water
(Glycerin gives this product a sweet taste, which makes it easy to give to pets... even cats)
ALCOHOL FREE
Directions: Squirt direction into mouth or add to food or water 2-3 times/day. 
Dosage: Dogs under 30lbs - 0.25-0.5ml, 30-60lbs - 0.5-1ml, over 60lbs - 1.0-1.5ml. Cats - 0.25-0.5ml
Cautions: Safe use in pregnant animals or animals intended for breeding has not been proven. If animals condition worsens or does not improve, discontinue use and consult your veterinarian.