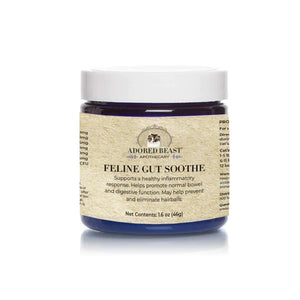 A proprietary blend of herbs, prebiotics, and probiotics that supports a healthy inflammatory response. Helps promote normal bowel function, digestive function, and pH. May help prevent and eliminate hairballs. Helps support the protective layers of the bowel and maintain proper gut flora in the digestive tract. 15 billion CFUs and 14 species of probiotics. 
Ingredients
L-Glutamine (150mg):
A component of healthy connective tissue and mucous membranes. Supports healthy mucous membranes and linings in the respiratory and digestive tracts. It supports the strength of the mucosal lining and helps to maintain a normal inflammatory response.
N-Acetly Glucosamine (125mg)
Slippery Elm Bark (100mg):
For hundreds of years, Native Americans have used slippery elm bark for its beneficial and soothing properties. Slippery elm is a large, deciduous tree native to Eastern North America known for its mucilaginous and strengthening properties. Slippery elm is a master demulcent. It exerts a soothing effect on mucous membranes of the digestive, respiratory, and urinary tracts. Helps support the protective layers of the bowel. Helps support proper digestion and bowel health.
Deglycyrrhizinated Licorice (30mg):
Licorice root, which is considered one of the world's oldest herbal extracts, comes from the root of the licorice plant. Licorice Root/DGL is a form of licorice that is safe for those with high blood pressure as it has the glycyrrhizin constituent removed. It benefits the gastric lining by promoting circulation and supports cellular health.
Marshmallow Root 4:1 (6.25mg):
Marshmallow root is in the mucilage-heavy Malvaceae family and is an herbaceous perennial that can be found growing alongside marshes, seas, riverbanks, and other equally damp areas. Known throughout the ancient Egyptian, Arab, Greek, and Roman cultures, this herb has been used continually for at least 2000 years. In traditional practices it was given to help moisten and maintain a normal inflammatory response in the lining of the respiratory, digestive, and urinary tracts.
Multi Strain Probiotics Blend (15 Billion CFU):
Probiotics assist the immune response of the digestive tract. Lactic acid  bacteria produce lactic acid which promotes the body's innate resistance to pathogens. Helps to maintain proper gut pH.
Larch Arabinogalactan (150mg):
Prebiotic larch arabinogalactan is a larch tree extract that supports colon health. Prebiotics are used to feed probiotics and support their viability and colonization.
Liver Glandular (20mg)

Probiotic Blend Species And Strains
Streptococcus Thermophilus
Bifidobacterium Infantis
Bifidobacterium Longum
Bifidobacterium Bifidum
Bifidobacterium Breve
Lactobacillus Lactis
Lactobacillus Rhamnosus
Lactobacillus Plantrum
Lactobacillus Paracasei
Lactobacillus Helveticus
Lactobacillus Salivarius
Lactobacillus Bulgaricus
Lactobacillus Acidophilus
Lactobacillus Casei
INSTRUCTIONS
Once per day at meal time according to your cat's weight.
Refrigerate after opening. 

CAT'S 
WEIGHT

DAILY
AMOUNT

1 – 5 LBS

1/8 TSP

6 – 11 LBS

1/4 TSP

12+ LBS

1/2 TSP

Cautions: If animal's condition worsens or does not improve, stop product administration and consult your veterinarian. Safe use in pregnant animals or animals intended for breeding has not been proven. Administer during or after the animal has eaten to reduce incidence of gastrointestinal upset. Federal law prohibits the off-label use of this product in ruminants. Absorption of drugs taken simultaneously may be delayed. An examination from a veterinarian is recommended prior to using this product.
 
Warnings: Not for human consumption. Keep out of each of children and animals. In case of accidental overdose, contact a health professional immediately. Not intended to replace veterinary advice.