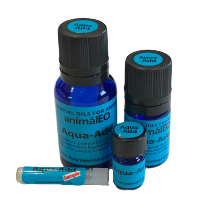 A blend ideal for addition to aquariums and water sources for exotic animals.
Veterinary Formulated and Manufactured Essential Oils for Animals
Description
Aqua-Add is the ideal blend of essential oils to add to aquariums, fish bowls, soaking water, ponds, and any body of water that animals live in or go into. From snakes to fish – Aqua-Add can provide support.
Aqua-Add is appropriate for fresh and salt-water fish, iguanas, snakes, turtles, and other lizards, reptiles, and various critters who use water as a soaking location or habitat. Any sort of Koi Pond, terrarium, or even a Hippopotamus pool – can experience the benefits of essential oils!
Ingredients
Essential Oils of Lemon (Citrus limonum), Melaleuca alternifolia, Peppermint (Mentha piperita), Citronella (Cymbopogon nardus), Frankincense (Boswellia carterii), Lavender (Lavendula angustifolia), Copaiba (Copaiba officinalis)
Directions for Use
Small fish bowls and smaller aquariums and bodies of water – it is best if you use a toothpick to add small amounts of essential oils, by swishing the toothpick in the water. Alternatively, pre-mix a drop of essential oil with a container of water intended to be added to your existing water.
Although many people add a drop or two of essential oil to their aquarium, the oil(s) will float on the surface of the water. Previously, it was thought to be an interesting fact that some fish would come to the surface and "inhale" or "ingest" the oil droplets – however – this practice can be irritating to the sensitive gills of the fish (or sensitive tissues of other aquatic animals). For safety, it is recommended to mix all oils used for aquatic animals into water immediately, and not to allow animals to have direct contact with neat essential oils or concentrated oil droplets.
It is important to note, that adding essential oils into aquarium water – DOES NOT prevent algae growth. Many people have tried for this result – but it does not appear to be effective, and in fact, may encourage some algae to grow (yes, they appreciate good health as well!) Keeping water out of sunlight, appears to be one of the more effective deterrents to algae formation.
For small containers of water such as Betta bowls – soaking water for reptiles, snake water bowls, and aquariums under 10 gallons in size – it is best if a wooden toothpick is dipped into the Aqua-Add, and then "swished" into the water. Another method to use, is to place 1 drop in approximately 1 Liter of water contained in a glass container. I often use 2 drops in a 1/2 gallon Mason Jar filled with water. This pre-mixed water is then used when I need to add water to my fish bowl or aquarium.