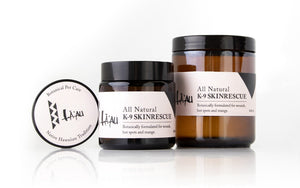 SMALL BATCH

botanical
 

SKIN CARE
All-Purpose Skincare for All Dogs
Lā'au all natural K-9 SkinRescue is an organic salve specially made to safely address hot spots, wounds, mange, crusty noses, and cracked paws for dogs of all breeds. Responsibly sourced ingredients help soothe your canine companion's skin issues with visible results in as little as one day. Shorten healing time for cuts, abrasions, and wounds to help your best friend get back to living their best life. We aim to educate dog parents on better ways to bathe and care for their beloved pets while providing safe, effective, botanical, human grade products that soothe and improve the appearance of their skin and coat.
HOW
 

to

 

USE

FOR HOTSPOTS: Apply K-9 SkinRescue twice daily until skin improves. Typical application is anywhere from 4-14 days depending on the severity of the hotspot.

FOR WOUNDS: Apply K-9 SkinRescue 1-2 times a day until you see improvement. Typical application is anywhere from 1- 10 days depending on the severity of the wound and how often you apply the cream.

FOR DEMODECTIC MANGE: Apply K-9 SkinRescue at least once a day, optimally twice a day, for 14 days or until you see improvement in the skin. Typical application is anywhere from 12-21 days depending on the severity of the mange. Make sure to apply liberally and rub it in as best as you can.

K9-SkinRescue is not for alopecia or heavy scar tissue.

 
our
 

RECYCLING

 

program

As part of our commitment to sustainability and helping our planet, we're offering a recycling program that keeps our jars in circulation while helping you save money. When you've finished your jar of K-9 SkinRescue, please email us at aloha@laauinc.com to get instructions. We will ask you to simply use the original packing materials and box, order a refill at 25% off and you will be emailed a shipping label at the same time. Stick it in the mail, and we will get your refill out as soon as we see you have shipped the jar back.

If you want to save your jar and use it for something else, post a picture of how you are reusing your jar on Instagram and tag us @laauinc because we all love this beautiful planet we are stewarding for future generations.