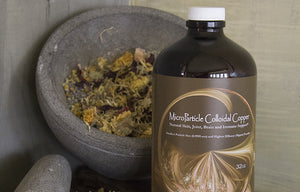 Colloidal Copper supports the health of the skin, collagen and joint health, anti-aging, brain, bones and immune system. It is one of the most biologically important minerals as it is necessary to catalyze ion exchanges and activate metabolic activities. 
Micro-Particle is the highest efficacy possible
Bio-Active 10ppm
Nano - smallest particle size possible for best efficiency and no build-up in tissues. Particle size is 0.9999 nanometers
Packaged in non-leaching glass bottles
Copper is an essential trace element for humans and animals. Although Hippocrates is said to have recommended copper compounds as early as 400 B.C., scientists are still uncovering new information regarding the functions of copper in the human body.
Copper Uses
Promotes healthy skin.
Supports healthy cartilage and tendon regeneration.
Plays a critical role in cellular energy production.
Helps maintain the integrity of connective tissue in the heart and blood vessels (deficiency can contribute to dilated cardiomyopathy)
Plays a role in bone formation (deficiency can mimic symptoms of leukemia)
Plays a role in the metabolism of the neurotransmitters norepinephrine, epinephrine, and dopamine.
Functions as an antioxidant.
Necessary for normal iron metabolism and red blood cell formation. (Improper iron metabolism increases risk of heart attack and intestinal inflammatory disorders)
Copper is known to play an important role in the development and maintenance of immune system function. (white blood cells "hoard" copper, making them more effective at killing bacteria and pathogens)
Dosage: Orally give one teaspon (15mL) daily per 50lbs of body weight to help maintain health. Up to three teaspoons per day may be taken to help fortify the immune system when needed.
Ingredients: Colloidal Copper Atoms, 100% Pure Distilled Water
A safe and powerful mineral supplement, which contains only trace minerals. No chemicals.
Micro-particle products are made in small batches, with lots of love and care. Each batch is handmade by a small group of knowledgeable staff, supervised by Dr. Jen Hartley (Chiropractor, Naturopath, Herbalist and Neurologic Specialist) to ensure the highest quality possible. The products work to effect the body's natural rhythms of homeostasis to ensure balance, harmony and optimal function.