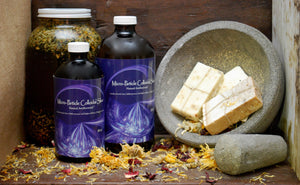 Colloidal Silver is nature's antibiotic, antiviral, and ant-cancer. It kills infections and is biologically inert, making it safe to use internally. 
Micro-Particle is the highest efficacy possible
Bio-Active 500ppm
Nano - smallest particle size possible for best efficiency and no build-up in tissues. Particle size is 0.0008 microns (or 0.8 nanometers)
Packaged in non-leaching glass bottles
Colloidal Silver is a product that should be in the medicine cabinet of every home! It can be used internally or externally, for all ages and even the family pet! Internally it can be used for colds/flu, UTIs, yeast infections, digestive disorders- including parasites and leaky gut, and much more! If you have any infection… think Colloidal Silver first!
Compare cost to the #1 selling Colloidal Silver Product in the US:
Micro-Particle = $55.00/32oz at 500ppm
Other Brand = $68.99/32oz at 10ppm

Externally it can be used for acne, sunburns, wounds/cuts, dandruff, psoriasis, eczema, athlete's foot, ear and eye infections, gangrene and other skin conditions.
Colloidal Silver is unique because it works like rubbing alcohol in the way that it kills microbial cells, but doesn't burn or taste bad. Many claim that it tastes like mineral water, which makes it easy for kids to take, and to add it to the doggie water bowl.
Common Dose:
ACUTE: Pour 1/2 cap-full directly into pets mouth or a small amount of water 1-5 times per day. (According to the EPA (CASRN 7440-22-4) daily Oral Silver Reference Dose (RfD) applied to 10 ppm, one may ingest 178,850 servings safely over 70 years.) 
Topical: add to cotton ball, apply where needed as needed.
Micro-particle products are made in small batches, with lots of love and care. Each batch is handmade by a small group of knowledgeable staff, supervised by Dr. Jen Hartley (Chiropractor, Naturopath, Herbalist and Neurologic Specialist) to ensure the highest quality possible. The products work to effect the body's natural rhythms of homeostasis to ensure balance, harmony and optimal function.